Lafayette Square Neighborhood
The Lafayette Square Neighborhood is located just south of Downtown St. Louis. The boundaries of the neighborhood are Chouteau Avenue on the north, Dolman on the east, Interstate 44 on the south and Jefferson Avenue on the west. Those boundaries are important roads for the Lafayette Square Neighborhood, as are Lafayette, Park, Mississippi, Missouri and others.
The Lafayette Square neighborhood receives its name from the large park, Lafayette Park, that the neighborhood surrounds. Originally part of the St. Louis Commons, its 30 acres were set aside as a park in 1836. It is the oldest designated park west of the Mississippi River as well as being the oldest in St. Louis. For many years the park was not used because it was too far out for most of the population of the city. It wasn't until the late 1850s and early 1860s that the area became a prestigious place to live and the park was a popular place for recreation. Promenient and wealthy St. Louisans, such as Mayor Henry W. Kiel and jeweler D.C. Jaccard, built their homes around the park. Unfortunately, the Tornado of 1896 devastated the neighborhood by destroying much of the park and many of the beautiful homes that surrounded it. Instead of rebuilding, many residents left Lafayette Square and followed the population that was then moving to more western and newer communities. It wasn't until the 1960s, after many decades of neglect, that the old Victorians in Lafayette Square began to be rehabbed and restored. Consequently, Lafayette Square became the city's first historic district, designated in 1972 by city ordinance and it was placed on the National Register of Historic Places in 1973.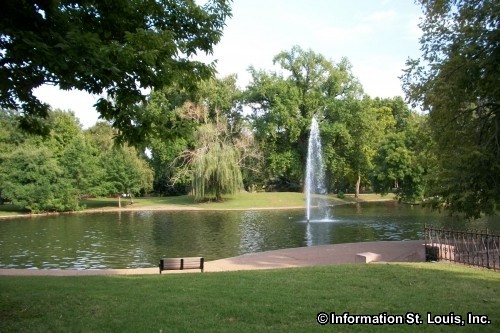 Lafayette Park is part of the St. Louis Parks system and its features include a one acre lake, athletic fields for softball, football and soccer, several historic buildings such as the "Park House" and beautiful paths and gardens.
Lafayette Square holds several annual events. One of the largest is the annual "Holiday Parlor Tour" held in December where residents of Lafayette Square open their Holiday decorated homes to hundreds of tour goers. With the backdrop of the beautiful historic neighborhood, the tour is always a wonderful experience! Other events include a Halloween Parade on Halloween as well as the Tricks & Treats on the Park that features games and trick or treating at local business on the Saturday before Halloween, concerts and movies in the park during the months of May through September and other community based events.
The St. Louis Public School District serves the residents of Lafayette Square. No schools are in the neighborhood, but close by in the McKinley Heights Neighborhood are Sigel Elementary, McKinley Classical Leadership Academy High School and McKinley Classical Junior Academy. Peabody K-8th School is also located close by in the Peabody Darst Webbe Neighborhood.